Shatbhikha Nakshtra Characteristics
---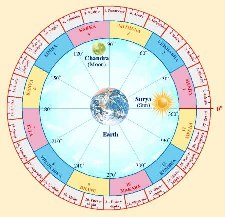 GENERAL RESULTS OF BEING BORN IN SATHA BISHTA NAKSHATRA
Shatabisha Nakshatra: Spread from after 6:40 up to 20: in Kumbha. Lord Shani. Symbol a circle. The Ocean, rivers, lakes etc. are derived from this star and it signifies aquatic marine life.
Character and general events:
He is a hard core follower of "Satyameva Jayate". He will not hesitate to sacrifice his own life for upholding the truth. As he is born with certain principles, he has to quite often confront with others as he cannot deviate from his principles in life. Selfless service is his motto. He insists on following the religious traditions. He is also of the adamant type. Once he takes a decision it is not easy for others to change it. While he is very intelligent and efficient in most of the walks of life, he is very soft hearted. He is a mixture of good and bad.
When he is provoked, he will rise like a bulldog, but that anger is soon subsided. As he does not believe in pomp and show, he is shy to exhibit his talents. However, his talents are soon unearthed when he starts conversing in an interesting and attractive manner. His dialects are highly instructive and educative.
Queries / Comments: 3
2. Srinivasan [04-10-2015]